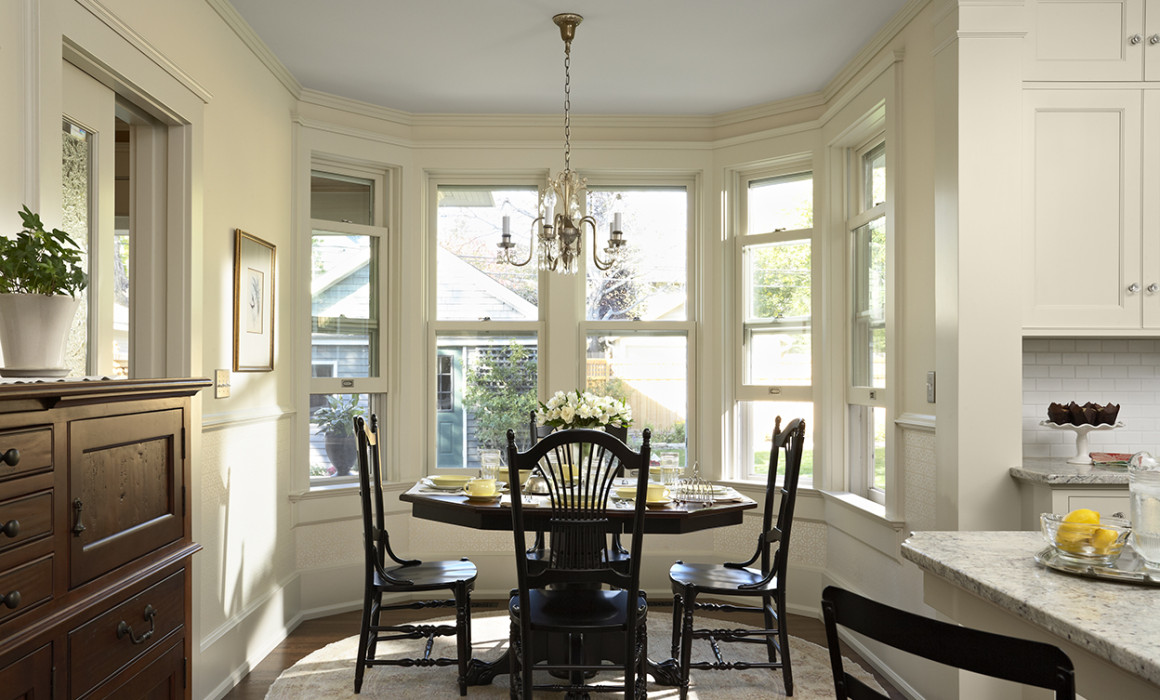 This 1890's house, designed by nationally acclaimed architect Cass Gilbert (of the U.S. Supreme Court building), had suffered many inappropriate renovations over its lifetime. The kitchen, installed in the back of the house in the 1980's, contrasted drastically from the classic interiors still evident elsewhere. Modern functionality at the existing side door was also lacking, complicating access to the backyard and garage. The owners needed a kitchen that not only served their needs, but also respected the history and pedigree of their house.
BEFORE & AFTER This kitchen was lacking the complex and interesting details that completed the rest of the house. It was our job to bring the "front of house" aesthetic to the "back of house" room the homeowners use every day.
---
At the time when the house was originally built, kitchens didn't have much importance as a gathering space—and the people who used them often weren't the homeowners themselves. Over a century of service later, the kitchen now plays a major role in daily life and entertaining. Our clients craved the details from the "front of house" to bring the richness of the more formal rooms to the kitchen and breakfast area they use every day.
The remodeled kitchen combines modern amenities with a design aesthetic that is appropriate for a house of this age and style. A more functional plan anticipates spatial relationships to work and storage areas. New appliances are integrated into cabinetry with period-appropriate details, such as the microwave conveniently concealed behind an upper cabinet door. Several custom design elements, such as the corbels under the upper cabinets and the diamond appliqué on the range hood, are derived from Gilbert's designs of the period. Our clients, who requested a white-on-white color palette, were persuaded to adopt a more historically-appropriate, muted grey scheme. Much of the lighting was designed by the entrant and custom-made for the project, and antique light fixtures were refinished and rewired, ensuring both safety and authenticity.
A discreet addition to the back of the house accommodates a new porch and mudroom, providing a covered entrance much closer to the garage than the previous side door. A more centrally located powder room is now accessible from the stair hall. The breakfast room has been expanded by the addition of a new bay window overlooking the back yard.
Careful attention to the needs of a busy modern family, along with thoughtful adherence to Gilbert & Taylor's classic aesthetic, has resulted in a seamless whole that will remain a viable family residence for another hundred years.