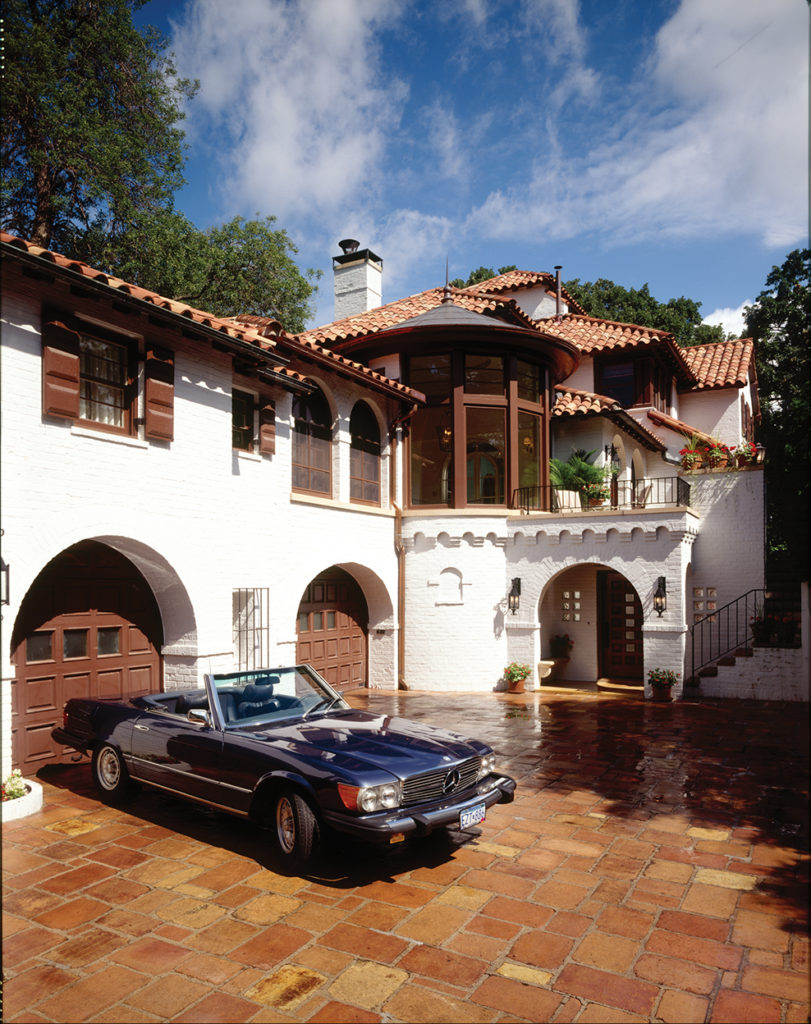 As with many large houses built in the first part of the last century, the separation of family and servant spaces poses common problems for modern families. This 1928 dwelling, which was placed on the National Register as an outstanding example of the Mediterranean Villa Style, suffered such maladies. The kitchen was dark and inhospitable, while other first floor rooms were very formal. Accessing the unused servants' quarters required a trek through the garage. We remodeled the house and designed an addition to link the disconnected areas, all inspired by the Art Deco interior of the building.
Instead of merely linking the existing spaces, we designed a new entrance tower, which serves as the hidden seam between old and new while improving access to the house from the garage area. The copper tower roof stands in contrast to the complicated tile roof of the main structure, yet is a material found elsewhere on the building. Within the tower, a new curved staircase echoes the shape of a staircase in the original house and adds a level of grandeur, sweeping guests up to the main living areas.
In the area that was once an open terrace, is a new family room that is both elegant and intimate, with Art Deco-inspired wenge and mahogany woodwork and cabinetry. A wide arched entry leads from the family room to the kosher kitchen, with separate cabinets, preparation areas, and dishwashers for meat and dairy. All the expected modern appliances are here, too, including wine storage, a warming drawer, and a built-in mixer. The overall effect of the upgraded materials and improved layout is that the kitchen is now the true center of the house, ready to serve a key role in entertaining.