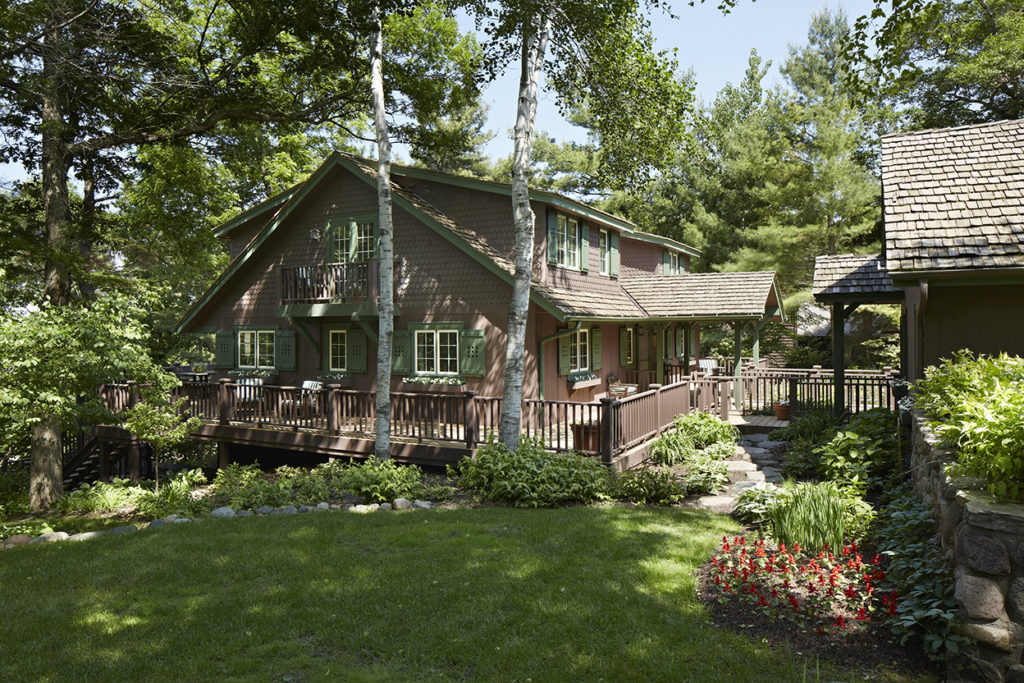 This treasured family hideaway is a demonstration of how the sensibility of a timeless cabin lifestyle can be preserved while providing modern day amenities. With the desire to spend more time at their beloved family retreat, our clients were interested in a more open and cohesive cabin that would both celebrate and respect its established design vocabulary and its site. Working within strict scenic river guidelines, the project provides a re-imagined layout of all three levels within the original footprint.
Both staircases were reoriented to allow better circulation. The construction of a new, steeper pitched roof allowed the conversion of the second floor bunk room into new master and guest suites. From the comfort of the master bedroom, expansive windows with panoramic views of the river valley create a tree house experience of being perched within the surrounding white pines. Fir timbers supported by hewn tree trunks combine with our design for a bureau of hand-carved relief; this Tramp Art-inspired piece delineates dressing and sleeping areas. Daylight admitted through art glass skylights furthers the connection with the out-of-doors and creates a sense of place at the master bathroom lavatory and the upper stair landing.
An updated kitchen on the main level now opens to the living room, shifting the dynamic of serving and served. Both this kitchen and the re-imagined lower level catering kitchen incorporate new and reclaimed stainless steel countertops, an homage to the original owner's innovative metal fabrication business.
The result is a natural, cohesive, craft-laden cabin that the owners treasure; they've sold their house in town and now live at the river year-round.