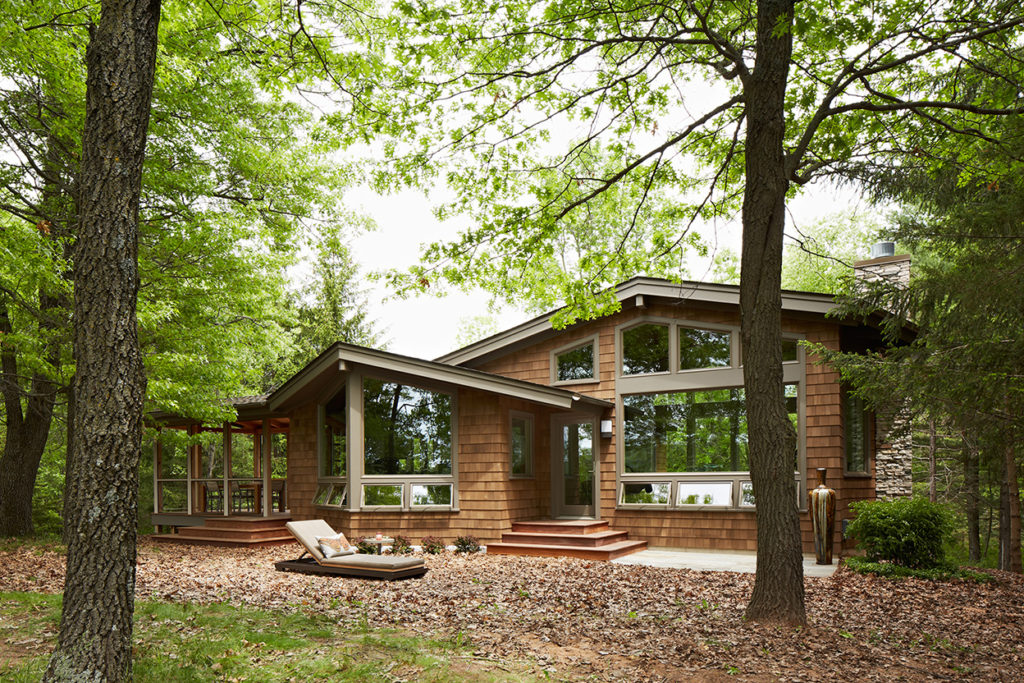 See before photos of this project.
Well-loved for decades, this 1,000 square-foot mid-century cabin, nestled in the pines of the Saint Croix River bluffs, always had the valuable talent of getting out of the way. For the owners, it was about being at the river, not inside the cabin. We were asked to reconsider it's size, use, and aesthetic to create a welcoming family retreat that would engage its surroundings and provide shelter, but wouldn't be the center of attention.
Through thoughtful space planning, our addition of just 320 square feet profoundly impacted the livability of the house. The house feels twice as big as its former self.
The small house had the distinction of having no indoor dining area – all meals were taken on a screened porch, rain or shine. Redwood from the original outdoor dining deck was milled to create the kitchen island – homage to decades of memorable meals past.
A desire to maintain the outward focus, easy living, and low maintenance that had endeared the original building to them drove many of the design decisions. The main floor living room provides desired entertaining space while large expanses of glass create connectivity to the scenic landscape. A screened porch and elevated deck offer welcoming connections to the outdoors.
Working within the Scenic River Byway national guidelines, the building is now an integral part of its context. The result is a clean, uncluttered, contemporary shelter in the woods.
---