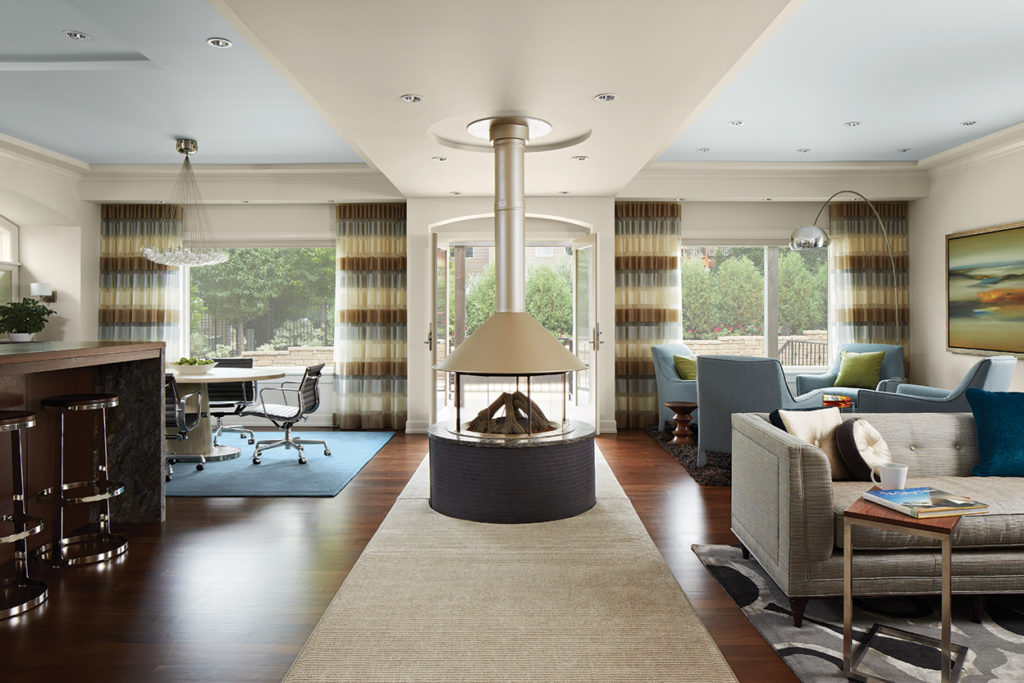 The day she moved in, the homeowner found her new house was so poorly laid out there was no way to arrange the furniture. The master bedroom was entered through the kitchen, and she could lie in bed and look down a hall at the door to the garage. The hot tub, used by her teenage son and his friends, was accessed through her bedroom.
Through clever space planning we were able to dramatically transform the way the house functions without necessitating major changes to the building's structure. Almost every room in the house was redefined and reconstructed. Sight lines were carefully considered to create a layering of spaces, ensuring the reconfigured public and private spaces meet the needs of the current residents.
The hearth organizes the space and serves as a central focal point while dividing the large open living area into four separate quadrants. Modulations in the ceiling elevation help to define each area's separate function.
The new kitchen participates in the entire living space. Capped by the comfort and warmth of the walnut eating surface, the island is an integral part of the design—clutter is screened from view and appliances stored out-of-sight.
The study separates the view of the owner's bedroom from the common living area and serves as a transition space. Because the study is located adjacent to the sitting area she is able to easily interact with her son, yet she still has the seclusion needed to operate her small business while at home.
---
Sioux Falls, South Dakota