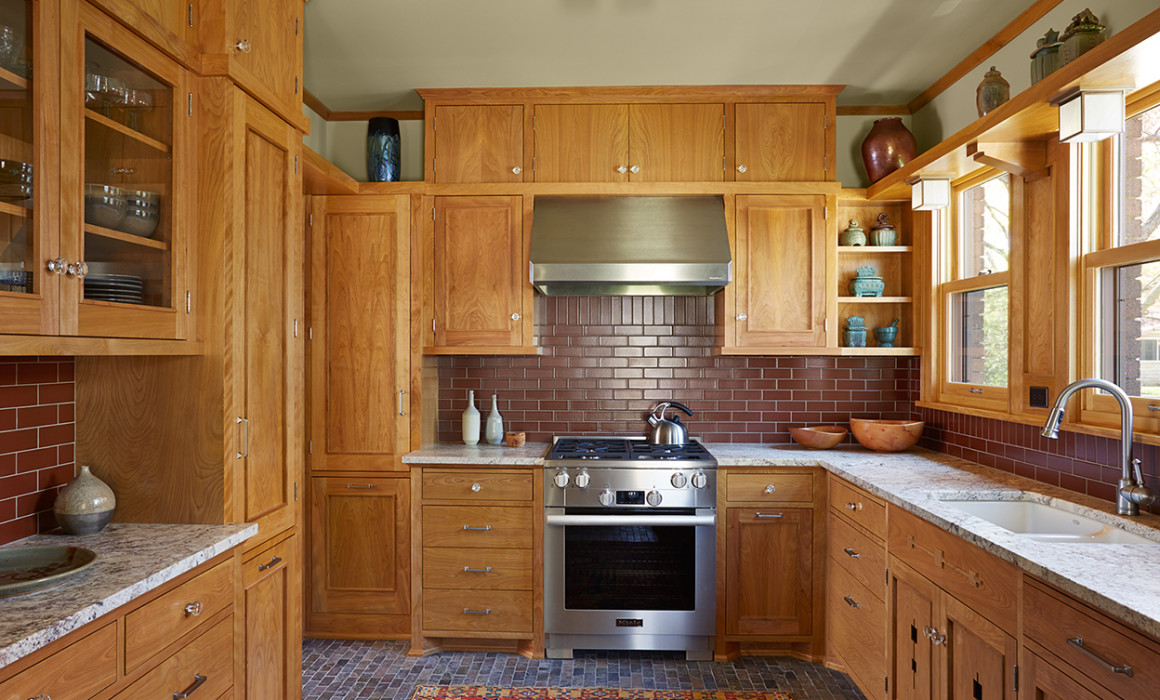 Can't see our project on the Homes by Architects tour? The house will be on tour for a SECOND time—here's your chance to see it again! Held in conjunction with the Parade of Homes, the Remodelers Showcase is a tour of remodeled homes in the Twin Cities area.
1599 Portland Avenue, Saint Paul
Friday, September 30 from 1 – 7 p.m.
Saturday, October 1 & Sunday, October 2 from 12 – 6 p.m.
Once called "one of the finest prairie-style houses built in all of St. Paul," this house was designed by Bentley & Hausler in 1915. The homeowners called on us to restore and reconsider the building while respecting its historical significance.
The details in the kitchen and other remodeled areas take their cues from the original details that remained, as well as other prairie-style precedents. An entirely remodeled second floor features a spacious master suite, and the kitchen's new appliances, slate flooring, and white spring granite counters provide a dignified contrast with the red birch cabinetry and tile backsplash. Light fixtures were custom-made to compliment the original Bentley & Hausler designed fixtures still present in the house, and the 100-year-old woodwork and oak flooring were refinished to their original luster. In addition, we worked with the homeowners to select period-appropriate fixtures, hardware, accessories, and paint colors throughout.
Details are included in a printed guidebooks available at regional Holiday Station stores or online at ParadeofHomes.org. This tour is free, so be sure to stop by!