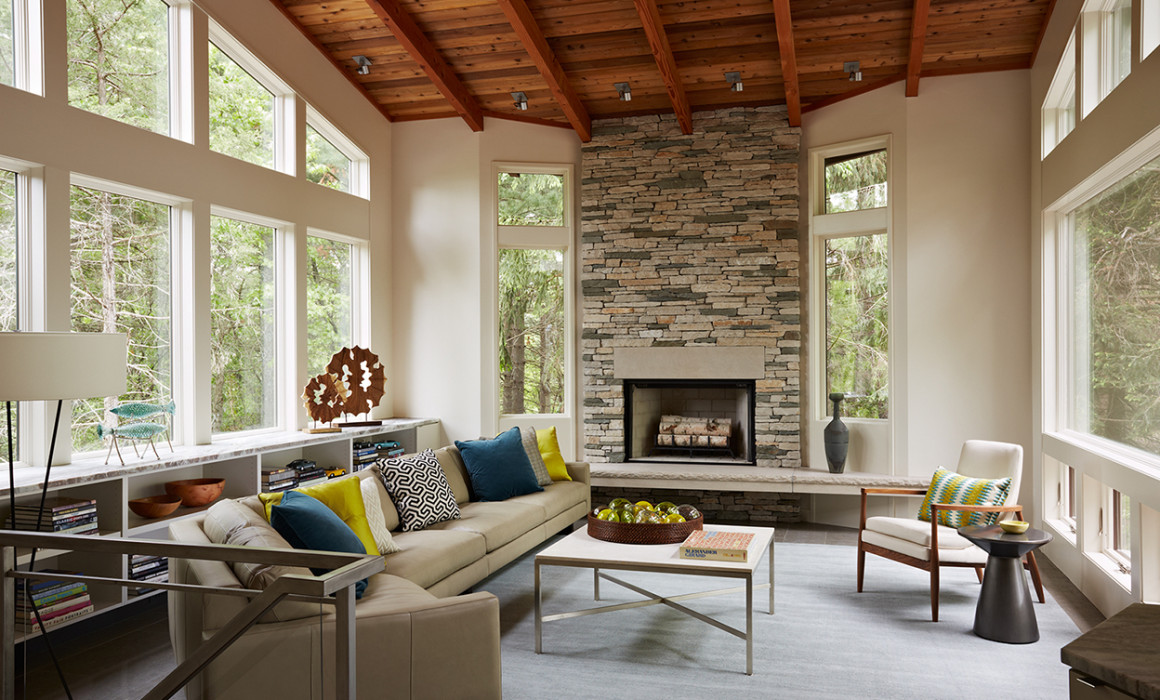 For decades this small mid-century ranch house, nestled in the pines overlooking the river, served as a cherished family retreat. After a burst water pipe ruined much of the building, a renovation and addition were in order. The original kitchen was tiny and had no connection to the living area or the views of the river valley beyond, and no indoor dining area meant all meals were taken on a screened porch, rain or shine.
Our charge: to celebrate memories made, and to rethink the retreat for generations to come. In order to preserve the desired mid-century aesthetic, many characteristics of the house—such as the large windows to encompass the view and the "prow" emphasized by the angled panes—were kept intact. The addition carefully and intentionally emulates characteristics of the original house. Large expanses of glass now capture and elevate views of the scenic landscape, and the soaring roof of the addition takes its shape from the original structure and features a renewed and extended cedar ceiling throughout. Thoughtful space planning, along with an addition of just 320 square feet, had a profound impact: the house feels twice as large as its former self—every inch is more usable.
BEFORE & AFTER Designed within National Scenic Riverway guidelines, these carefully considered changes create an intimate refuge.
---
The desire to maintain the outward focus, easy living, and low maintenance that had endeared the original building to them years ago drove many of the design decisions. Consistency of simple materials, an open floor plan, and the balance of organic and contemporary materials all subordinate themselves to the beauty that lies beyond.
Furniture was selected with the intention of furthering the 1960's aesthetic without imitating it. Strong, clean, and simple lines invite the kitchen into the rest of the main living area, and transform meal preparation into a big part of the shared experience of being at the river. Redwood boards from the original outdoor dining porch were milled to create the kitchen island—homage to the many memories created there. The glass tile in the kitchen and the stone fireplace in the living area visually link the spaces. The new kitchen serves as a common gathering space and plays a major role in the daily life of the owners.